I would like to talk about the training we have conducted for farmers.
Our project flow is.
Build UDDTs (Ecological-Sanitation toilets)
↓ 
Conduct the training including the market survey (adopting JICA's SHEP approach. We call MASHEP in Malawi).
For more information on the SHEP approach, click here.
↓ 
Conduct the market survey by farmers
↓ 
Conduct crop production training to produce crops as determined by the market survey
↓ 
Once the eco-san manure is ready, the eco-san manure is used to produce and farmers sell the crops.
We conducted the training including the market survey within this process. 
The training covered Marketing, Visioning, Gender Balance Tree, Record Keeping, Crop Calendar and Group Dynamics.
In Marketing, farmers learn how to conduct the market survey. This includes how to conduct surveys and how to ask questions to buyers.
In Visioning, farmers learn how to think about their future plans after 2~3 years later. It's common sense that we think about our future (e.g. having a vision, such as saving money every month to build your own house), however, it can be difficult for Malawians. For them, not knowing whether they will be able to buy food to eat today, they cannot even think about saving money or making a plan to do something for the future. Visioning helps them to have a vision of what they want to be as individuals and as a group so that they can be more positive about the project. Visioning aims not only to get them to have a vision of what they want to be as individuals and groups but also to improve their lives after the project is over.
Gender Balance Tree teaches farmers about the importance of sharing work and cooperating between spouses, children, and other family members, regardless of gender. During this training, women said that men drink more alcohol and they should stop, and men said that women did more work compared with men and men should do more work. 
The roots of the gender tree show the activities of each gender (e.g. washing clothes and cooking meals for women), the branches show what they spend their money on (e.g. men buying alcohol) and the trunk shows what they have the right to decide (e.g. men have the right to decide what crops to plant).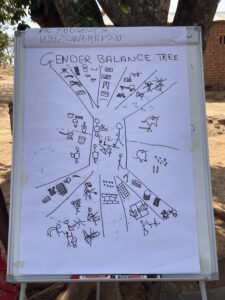 Record Keeping simply means keeping a household account. Keeping household records is not customary for most Malawians, so most of them do not know both their expenditure and income. The goal of our project is to improve farmers' income, but if they do not keep their expenditure and income, they will not know how much their income has improved. As well as Visioning, we also aim to increase the number of people who try to save money for the future by keeping their income and expenditure.
In the Crop calendar, farmers learn to grow crops by understanding when to plant, sow, harvest and sell various crops.
In Group Dynamics, farmers learn the importance of working in groups, what is a good leader and how to choose a good leader.
Although we  do not ask farmers to work in a group, this group is also very keen to work as a group and has given us the name Kapokolo Group.