Hello everyone.
Finally, the rainy season is over and we are now in a rain-free period.
During the rainy season, there were heavy rains. Some of the farmers involved in our project live in areas very far from our office in Mzuzu. Off-roading (roads not paved with asphalt), which is rarely seen in Japan, is common in Malawi, so roads become muddy and impassable when it rains heavily.
In this situation, we visited farmers again to review the market research training we had conducted previously (see here for details) and to follow up on how they are actually doing record keeping.
During this follow-up, we realized that it is difficult to understand the process after just one training session. Many Japanese people, including myself, probably keep a household account book to keep track of their expenditure and income. For Malawians who do not have the habit of keeping a household account book, it is extremely difficult to learn a new habit.
The picture shows a farmer's actual record. (Kulima means labour wages and Mbeu means vegetable seeds).


For both farmers, the western year is written, but detailed dates are not written. Also, for the farmer on the right, no dividing line is written, so it is difficult to see how much money was spent on which items.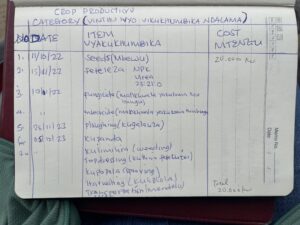 As a simple way of doing this, we, ELSaN project presented this form as an example. Some of the farmers only went to primary school and not secondary school. We have tried to keep it simple and easy to understand for such people, but we hope that the farmers will eventually write it in a way that is easy for them to write.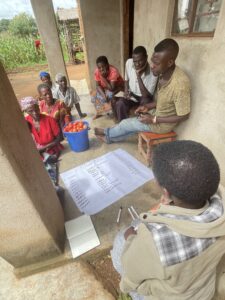 We have our Twitter, so please take a look here.