About the Shimadai-juku
The Hannari (gently radiant) Kyoto Shimadai-juku, which began in 2004, is coordinated by Sansai Gakurin to develop the research and educational outreach activities of the Graduate School of Global Environmental Studies. This gathering invites Kyoto University researchers and Kyoto citizens from all walks of life, including farmers, artisans and artists, local government officials and staff from environmental groups, to talk in household speech about important issues relating to daily life and the global environment, such as water, soil and food. Short presentations from university researchers and the citizens of Kyoto provide a springboard for lively exchanges between the presenters and members of the audience, during which new aesthetics and lifestyles suitable for sustainable living in a forward-looking city such as Kyoto can be discussed.

Venue
Meetings are held at Shimadai, a Kyoto silk trader's house. With its walls of white plaster and its latticed windows, this beautiful Kyo-machiya (Kyoto town house) is registered as a tangible cultural asset of Japan. For more than 300 years, this is a place that has been enjoyed by generations of literati associated with Kyoto. Today, Shimadai welcomes between 40 and 50 guests three times a year for the Hannari Kyoto Shimadai-juku – thus keeping up the house's history of lively debate. Guests are greeted at each gathering by seasonal floral displays and cultural exhibits, prepared by the owner of the house.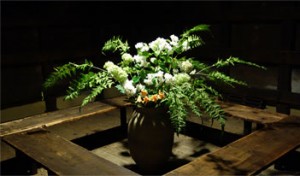 Announcing the next Shimadai-juku
Coming soon