Introductory Video of GSGES
International students talk about their study in the Graduate School of Global Environmental Studies (GSGES).
VOICE 1
Dima Kirilova GENOVA
Bulgaria, Laboratory of Environmental Education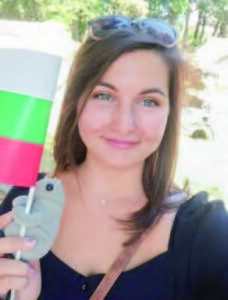 Studying at the Graduate School of Global Environmental Studies has taught me so much – not only about the environment, but also about scientific collaboration.
The amazing team of professionals teaching there really showcases how multi-dimensional and varied environmental studies can be, and you learn a lot about group work and collaborating with people from different fields.
Not only does the teaching staff comprise an excellent team of professionals, they are also very passionate about their work, and they support each student in their studies and research. It is inspirational to hear the professors talk about their specialist fields and, by participating in the various events, we all have an opportunity to gain valuable hands-on learning experience.
Another amazing thing about studying here is the multi-cultural student selection. As environmental issues vary around the world, learning alongside people from other countries, and even other continents, allows us to experience the full spectrum of Global Environmental Studies.
I think that the IEMP, which I am currently taking part in, provides an amazing base of environmental knowledge, as required for any specialist in the field, while also providing a variety of specialised courses so that each student can deepen their own understanding in their particular sphere of interest.
Through GSGES's internship programme and its range of amazingly interesting and educational courses, students are able to become capable professionals who are passionate about their work and able to continue the development of Environmental Studies, Policy and Education further.
VOICE 2
FUNAHASHI Tomomi
Doctoral Program in Global Environmental Studies Landscape Ecology and Planning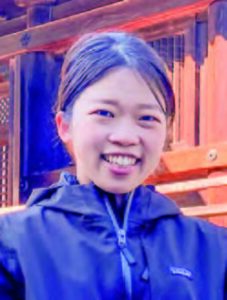 I entered the Master's program at Graduate School of Global environmental Studies (GSGES) from the Faculty of Integrated Human Studies in Kyoto University. From 2019-2021, I was working as a civil servant and enrolled in the master's program. Now, I am currently continuing my studies as a Doctoral Candidate at GSGES.
The reasons I choose GSGES was because of the GSGES environment whereby about half of the students are international students and I could study in a wide range of fields such as science, engineering, agriculture, economics, and sociology in a cross-cutting and practical method. The experiences at GSGES surpassed my imagination. I have daily discussions with colleagues from various backgrounds, specializations, and nationalities. I can learn new values for myself in my daily life and broaden my horizons. In addition, independence is tested in the research process of challenging my own awareness of problems while considering various perspectives within the large framework of the "global environment." Through the various perspectives of GSGES, I can adapt and hone my skills to flexibly conduct surveys and obtain results. In the master's program, I needed to conduct lot of things at the same time; internship training at three locations such as research institutes and government offices, fieldwork in Nepal, thesis dissertation submission, job hunting, part-time work, and managing a social life. However, these experiences made me cultivate my management skills, and gave me confidence to continue my research as a working student.
I feel that GSGES is a place where you can realize diverse learning methods and diverse career developments. The appeal of learning here is to learn the ability to take action, adapting to the future with diverse values in a society whilst considering drastic changes, and to have colleagues around the world who support you towards achieving your ambitions.